When it comes to starting a food truck business, the first question is always "How much does a food truck cost?" If you're buying a used food truck from an owner, the standard price is around $50,000 – $100,000.  If you're looking for real world examples, you can go to the Roaming Hunger Marketplace, where you'll find pre-owned trucks, trailers, and carts for as low as $35,000 (or less).
The real costs of buying used, however, can be a lot more complex. While it may seem like a steal, buying a used, as-is food truck is like buying a home that's a fixer-upper.  What you see – and sometimes what you don't – is exactly what you get.
Below we'll tell you how to be a smart shopper as you invest in the most important piece of your new food truck business.
The Pros and Cons of Buying a Used Food Truck
Pros


Affordability
The price of a used, as-is food truck is significantly less than building or leasing a new truck. This can be a great fit if you're handy/resourceful, and willing to invest some time into fixing it up (instead of paying someone else to do the same). For more information, here's a handy guide on how the costs compare between a used and new food truck.
Possible Permits
A used food truck may already be permitted – ask the seller when and where to see if it's in the areas you want to serve. For more permit tips, check out our Tips And Tricks To Make It In The Industry article.
Cons


Warranties are likely expired
Newly built food trucks come with warranties, but on a used food truck the equipment is likely older: that means you're out of pocket when your fridge or generator breaks.
Unexpected repairs
Directly related – when you buy a used truck and cooking equipment, you aren't 100% sure what works and what doesn't.  Make sure you have some cash on hand to cover future repairs.
Outside financing is to get tough
Traditional lenders have a hard time evaluating the quality of a used food truck, so they'll likely choose not to loan at all.  Expect to pay cash.
No flexibility in layout
The kitchen layout and equipment that it comes with may or may not work for your food concept – it's hard to bake pizza on a truck designed for burgers.  So be ready to (possibly) compromise.
Permitting and inspection trouble
Just because the food truck was once on the road doesn't mean it'll pass permitting and inspection again or that it was ever permitted to begin with – so be doubly sure not to assume otherwise. 
Aesthetic problems
A used food truck might look a little rough.  Plan to put in some serious elbow grease or about $800 (standard) to have your truck professionally deep-cleaned. 


What to Do Before You Buy a Used Food Truck


Learn the truck's history. Ask for the VIN of the vehicle in advance and run it on VinCheck.info to look for accidents, liens, a salvaged title, mileage, etc. Remember, the truck probably had another life before becoming a food truck – that's normal – but you want to know as much about it as possible.
Check with local food truck authorities.  Do your research and talk to local government agencies about permitting and inspection requirements everywhere you expect to serve food. (Again – they might even be able to tell you if the truck you want to buy is already permitted to serve there!)
Create an inspection list. You'll want to focus on the condition of big ticket items like the generator, engine, transmission, and cooking appliances, but that's no reason not to check whether the turn signals work and how much tread the tires have.  Make sure to leave empty space to make notes next to each item during the walkthrough with the seller. 
Get expert's opinion. When you go to view the truck for sale, try to bring both a commercial automotive mechanic and also someone with experience cooking on a food truck. They should be able to advise both on the reliability of the food truck and also help determine whether it's a good fit for your needs.  Even if costs a couple hundred dollars for their time, this will be money well spent to ensure you're making a sound investment.
Decide what's important to you. Just like buying an older home on a budget, buying a used truck means you'll probably need to make compromises. Think hard about what's going to actually contribute to the success of your food truck business and use those answers to evaluate whether the used truck you're considering is right for you.

In conclusion, buying a used food truck means you need to put a lot more effort up front to make sure you're covered in the long run. Once you're on the road, you'll need a reliable equipment both on the road and in the kitchen. For more information on starting and growing a food truck business, read the advice food truck owners gave on starting a food truck business.
A vehicle bill of sale is a legal document given by the seller to the buyer. It reports that on a specific date, at a specific locality and for a particular sum of money the seller sold to the purchaser a specific vehicle of which he had lawful possession. It is a written instrument proving that the transaction was successful and that both parties were able to understand each other clearly.
The bill of sale will generally include the following information about the transaction:
A description of the vehicle and its vehicle identification number (VIN).
Any warranty that may have been agreed upon.
The final sale price of the vehicle.
The name of the buyer and the seller.
The state in which the vehicle was sold.
Completing the form does not transfer the title to the buyer. To complete the transaction, the buyer and seller should accomplish the following:
The buyer should apply for a new title in his name, take the Certificate of Ownership (Title) and this Bill of Sale to the local vehicle licensing office and pay the required fees and taxes.
The seller should submit a completed Report of Sale which releases his liability from the vehicle. He can report the sale by filling out the Report of Sale section at the back of the title. He can also go in person at any vehicle licensing office or process it online.
The process may vary depending on the location. Please contact your DMV to make sure that you have the correct instructions.
Download a free vehicle bill of sale here: Free Vehicle Bill Of Sale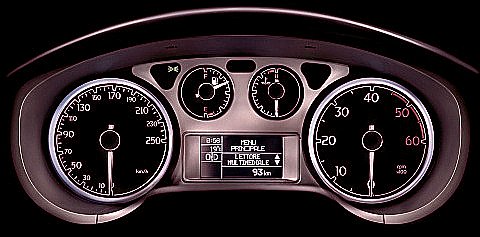 Odometers are often rolled back so the seller can make more money. Cars with low mileage are priced higher. Omit 35000-40000 miles and it will artificially inflate the value to about $2500 to $3000.
Digital odometers were supposed to make it hard for criminals to tamper with them, but they still managed to find a way to hack them.
Most vehicles store their digital odometer reading on the instrument cluster on a re-writable EEPROM chip. Once the chip is located, they will have it desoldered from the board and get it connected to a computer's serial port where its data can be downloaded and manipulated.
Ponyprog is a popular program known to edit the data from an EEPROM chip.
The data on the chip is coded with inverted hex values. The odometer data are then edited and rewritten to the chip, which is then re-soldered to the odometer board and put back into the car. On older cars that sports analogue counters, the odometer is manually rolled by hand.
Tampering the odometer not only raises the value of the vehicle, it also deceives buyers that the vehicle is in  better condition.
Here, we wrote down a few tips that will help consumer's determine if the odometer has been tampered. Make sure that you keep these things in mind when you buy a used car.
Check The Instrument Dashboard
Make sure that the numbers on the odometer gauge are aligned correctly. They shouldn't be crooked, there should be no gaps. Check if it jiggles when you bang on the dash with your hand. If the vehicle has an analog odometer, as opposed to newer digital readouts, check that the numbers are lined up straight.
Look for some man made marks inside the instrument cluster. Look for fingerprints or smudge marks. If you find some, it is a sure sign that someone has been in the cluster. Look for loose parts and switches that do not belong. There have already been reported cases of vehicles being rigged with switches that turns the odometer off and on.
Check The Wear And Tear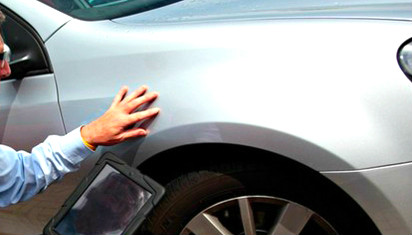 Make sure that the wear and tear match the declared mileage. Look out for signs such as worn seats, scratches on the keyhole, the steering wheel and other vehicle parts. These are indicators that the vehicle has been used a lot. If it looks too worn for the declare mileage that means that it has been rolled back. Check the vehicle's tires. If it shows 20000 mi or less it should have the original tires.
Look For Service Stickers
If you are checking a car with a digital odometer, it will be difficult to see physical signs of tampering. You can only know by dismantling the instrument cluster to see if the odometer has been desoldered.
You can look for service stickers inside the door or under the hood that may give the actual mileage.
If the odometer has been replaced or if a mileage correction was done, there will be a sticker showing:
The date of installation.
The vehicle's last known mileage prior to the repair or replacement.
The mileage added to the vehicle while the odometer was inoperable, if any.
You should also look at the owner's manual for  maintenance records. Make sure that there are no missing pages. It is also smart to contact the service center to validate the service manager 's signature.
Get A Vehicle History Report
Get a vehicle history report to compare the recorded mileage and the displayed mileage. Check the mileage on the car's title records and the odometer, it will help point out any discrepancies.
Be Vigilant
If you have information on any operation or incident where this criminal act is being committed or of people involved in this crime, please contact your local Highway Patrol. Reporting it properly  will alert our law enforcers. They will pay more attention to this problem and formulate more ways to protect consumers from this fraudulent activity.
Help inform your community by sharing this article on social media. Odometer fraud can be avoided, let's work together to make the used car market safer.